The baseball nursery is finally ready for our little boy!  I have shared a few projects I have done for the room, but today you get to see it all.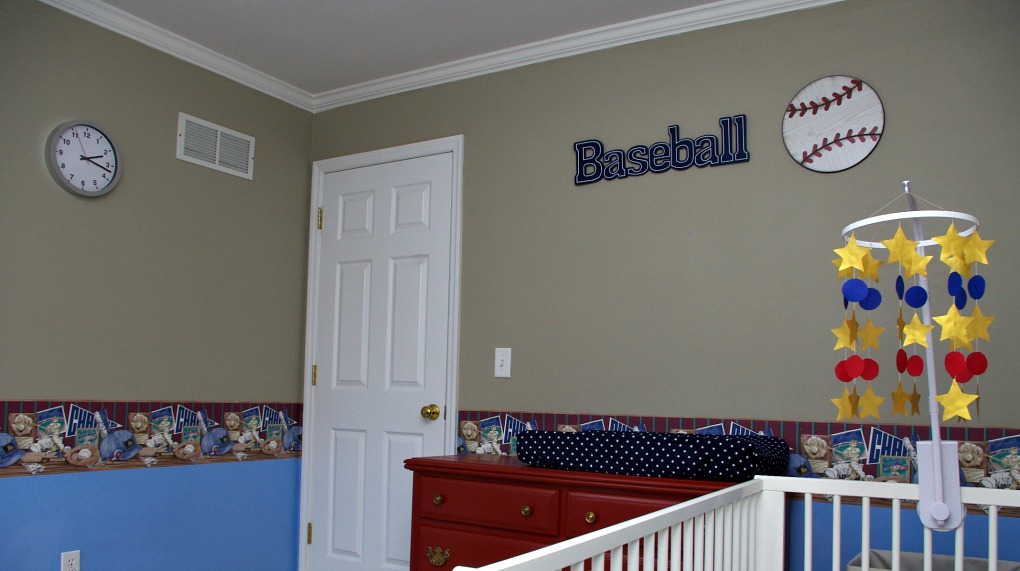 When we bought our house, it conveniently came with a baseball room.  It was for an older boy, so we had to make a few changes.  We liked the tan and light blue colors that were already on the walls, so we didn't make any color changes.
The first thing we did was take down the lofted bed that was built into the walls in the room.  Since that left behind a lot of holes in the walls, the next step was to fix the walls and add some paint.
We went with a red and navy blue color scheme for the nursery because these colors worked with the wallpaper border in the room.  There is also some white, brown, and gold sprinkled into the room.
After thinking about the different diaper changing station options, we decided to put a changing pad on top of a dresser.  I picked up a free dresser from my parents' house and painted it red.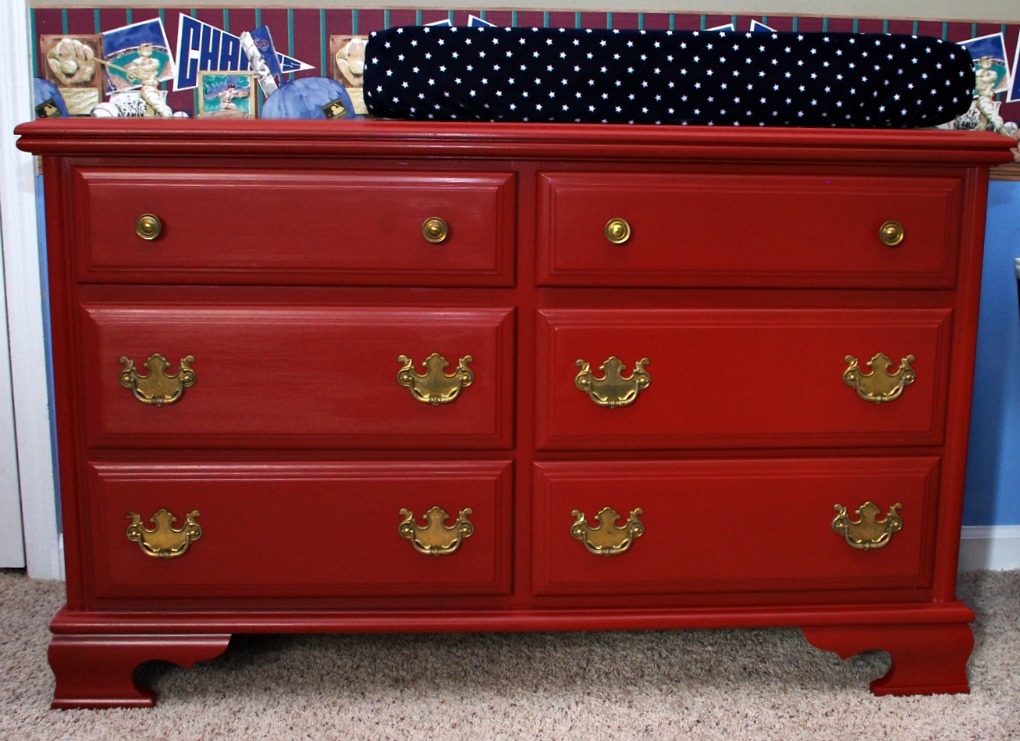 The dresser is currently holding some diapers and other diaper changing supplies in the top drawers so it's in easy reach when changing diapers.  The middle drawers are holding some sleepers, onesies, and other clothing items.  The bottom drawers are storing some miscellaneous baby supplies such as blankets and baby wearing items.  I expect to be rearranging the items in the dresser as we figure out what works best for us.
Baseball makes me think of stars, so I went with a navy and stars changing pad cover.  To keep the changing pad from sliding around on top of the dresser, it is sitting on some non-slip shelf liner.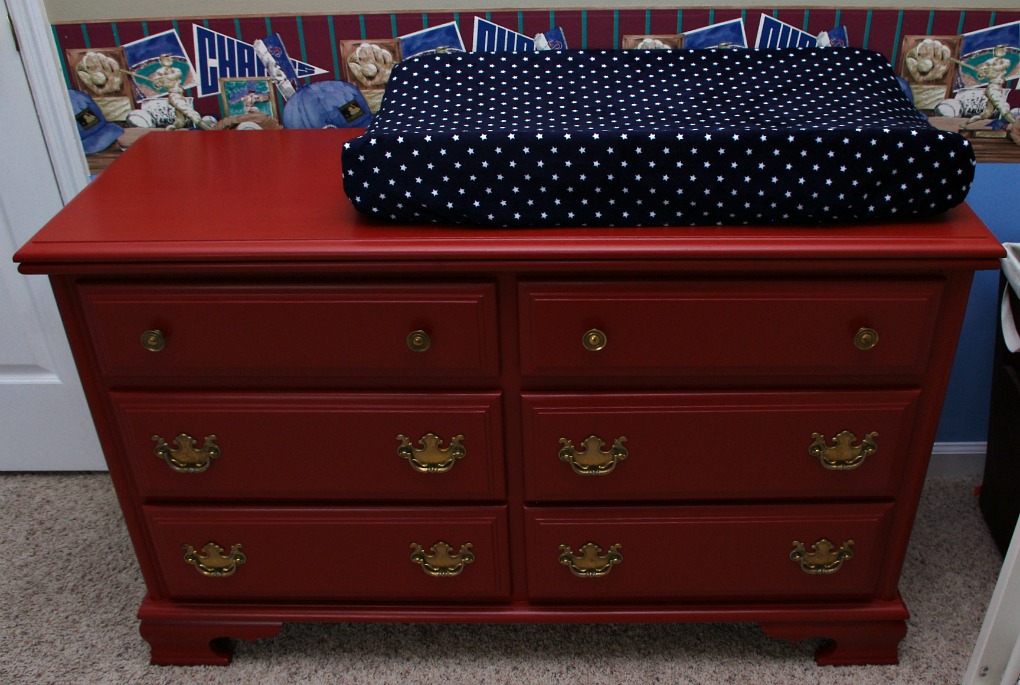 We have been very happy with the IKEA crib in our daughter's room, so we decided to get another one for this nursery.  We went with the Gulliver crib this time though because it looks a little more manly with the straight lines.  The Hensvik crib has curvy details that look good in our daughter's girly flower room.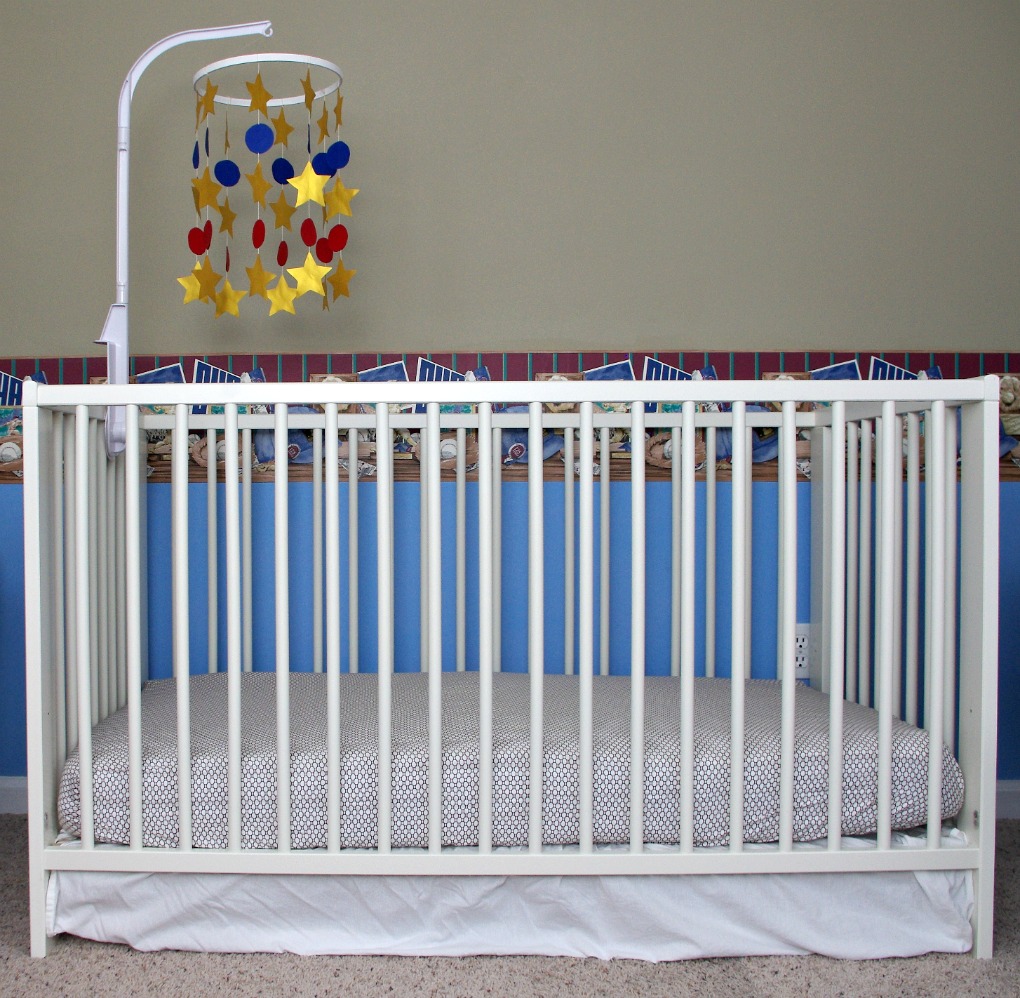 We are planning to move the crib to our bedroom for the first few months.  We will have the mattress set to the higher setting when we do that.  Just in case you are wondering why the mattress is already in the lower position.
The mobile was a DIY project I made using an embroidery hoop and cardstock.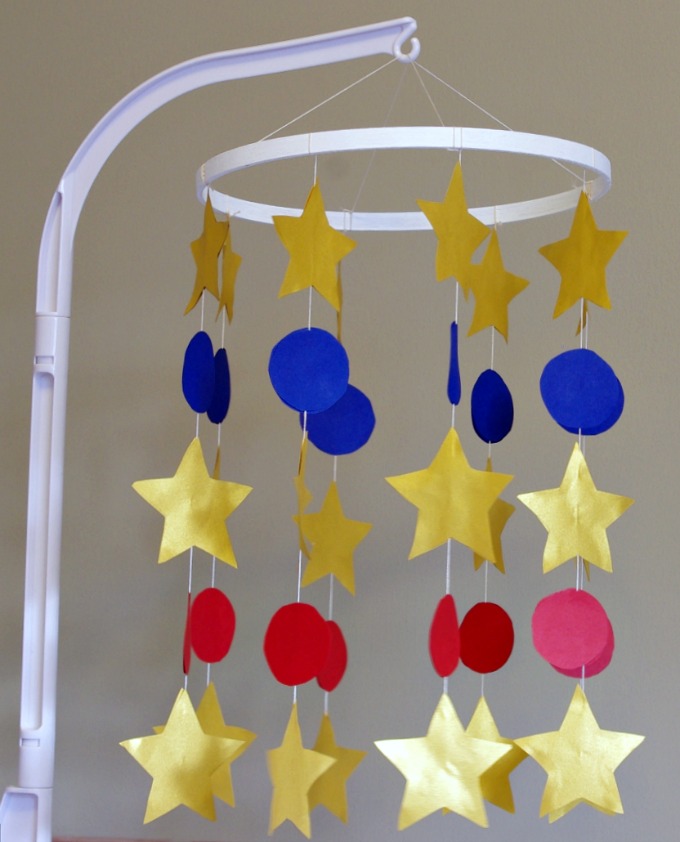 You can find all the details about how I made it here.  I love the gold stars, so I used a lot of those!
You might recognize the brown glider chair from our daughter's room.  That's because it is the exact same chair!  Our son is going to be using this chair and our daughter is getting a new chair for her room.  She doesn't need to be rocked anymore.  She is happy as long as we have a place to sit and read books before bedtime.
Right now the side table is empty, but it will be a nice place to set miscellaneous items on while feeding or rocking the baby.  I might add a small lamp to the table, but I am going to wait to see if I really need one first.
Most of the wall decor came from Hobby Lobby.  I considered making my own wall decor, but Hobby Lobby has a great selection of baseball room decor at reasonable prices, so it was an easy decision.  The blue and white wooden "Baseball" sign, wooden baseball, and red and white framed baseball quote sign all came from Hobby Lobby.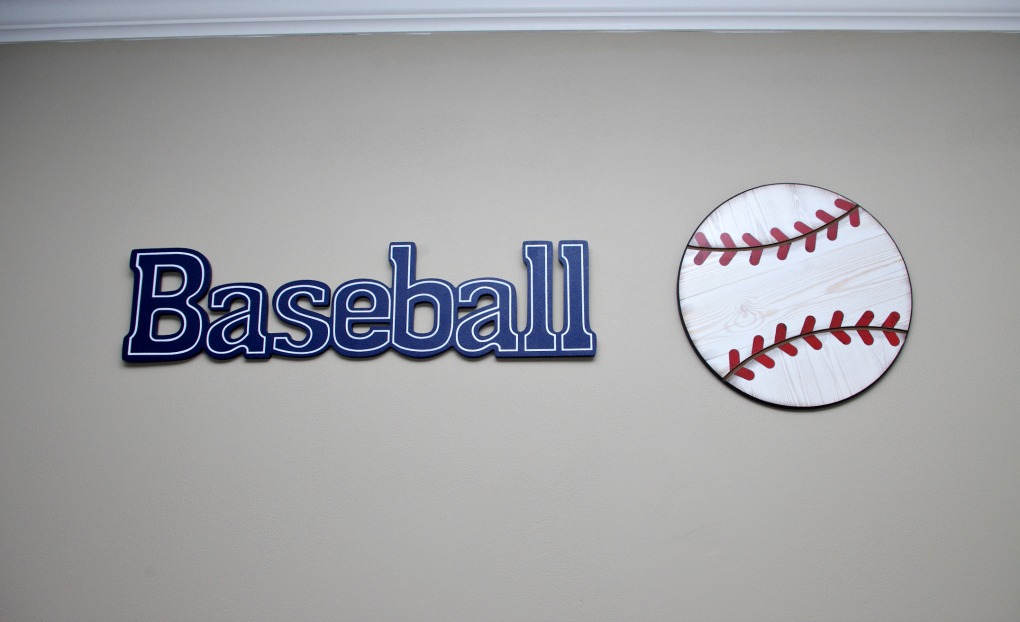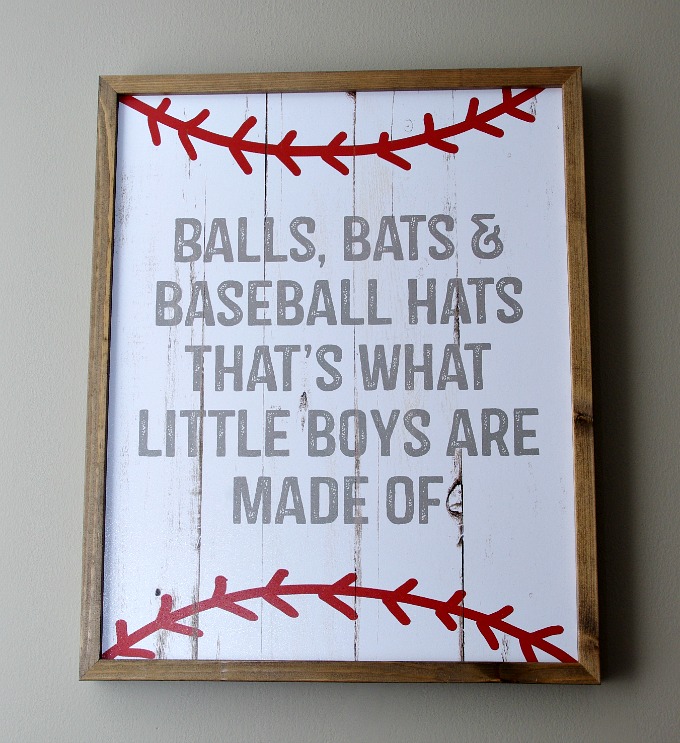 Here is the view from the glider chair.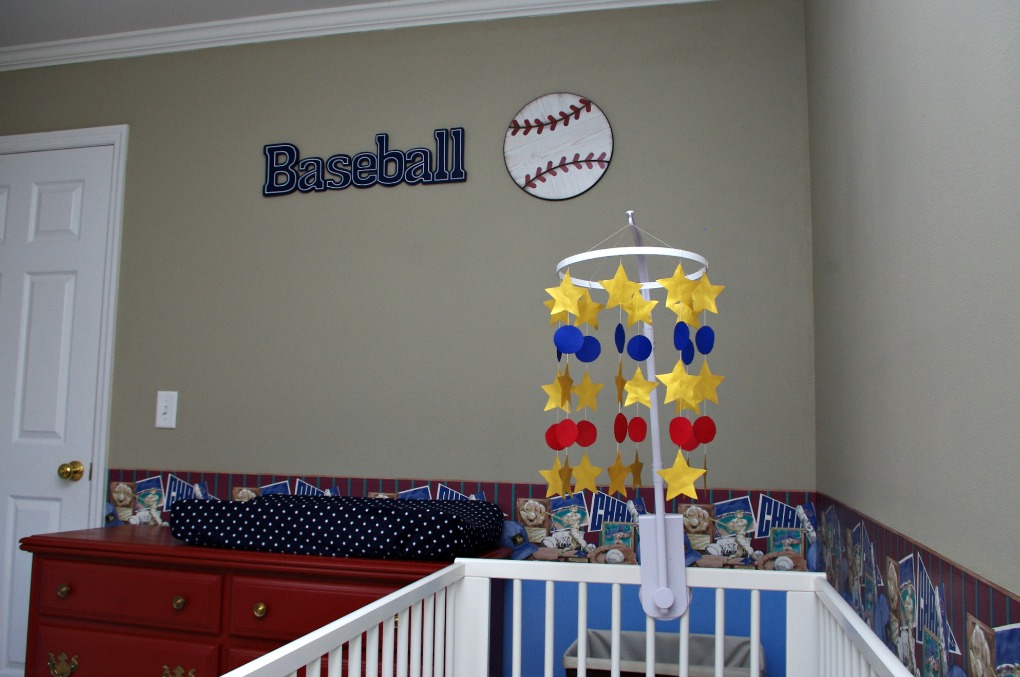 Below is the view standing in front of the closet.  The closet is being used as storage right now for extra boxes of diapers, wipes, clothes for when the baby is older, and a bunch of other baby items.
I might add some shelves to the wall right above the dresser some day, but we will see how it goes.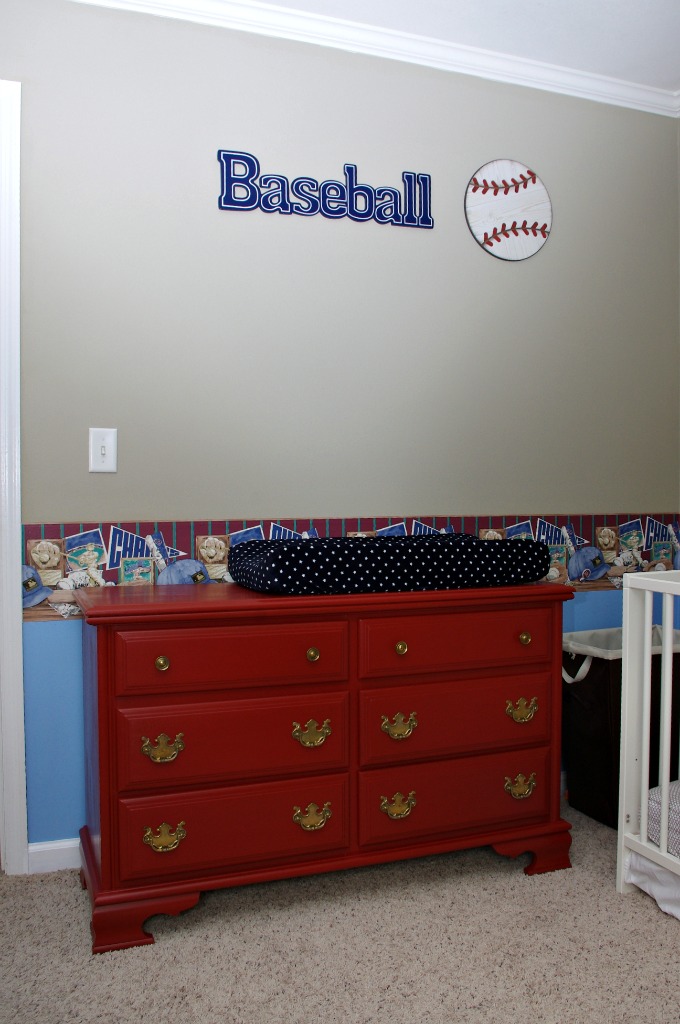 You can see the laundry hamper in the corner of the room in the above picture.  The corner seemed to be a good place for it because nothing else would really fit back there.  That corner would also be a great place for a diaper pail.  There is a diaper pail in our daughter's room right next door, so we didn't buy another one.  We will move it to this room when our daughter is potty trained.  Or sooner if we decide it makes more sense in this room before that!
It's nice to be able to see the clock while sitting in the glider chair.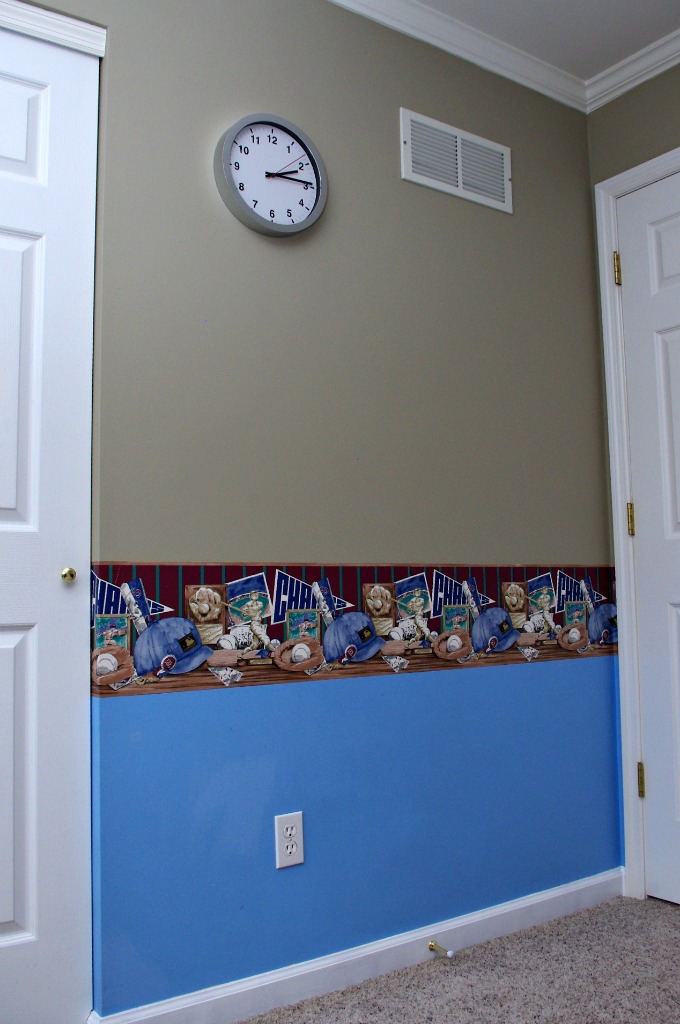 I hope you enjoyed the baseball nursery tour!
If you want to know where any of the accessories in the room came from, check out the list below.
Clock – IKEA
Blue and White "Baseball" Wooden Sign – Hobby Lobby
Wooden Baseball Wall Decor – Hobby Lobby
Dresser – Parents' House
Paint For Dresser – Amazon
Navy and Stars Changing Pad Cover
– Amazon
Laundry Hamper – Target
Crib – IKEA (Gulliver Series)
Crib Skirt – IKEA
Mobile – DIY Project
Mobile Holder – Babies R Us (Part From Daughter's Mobile)
Red and White Baseball Quote Sign – Hobby Lobby
Glider Chair and Ottoman
 – Amazon
Side Table – Home Goods
Have a great day!
♥Jena♥
This post contains affiliate links.  For more information, see my disclosures here.